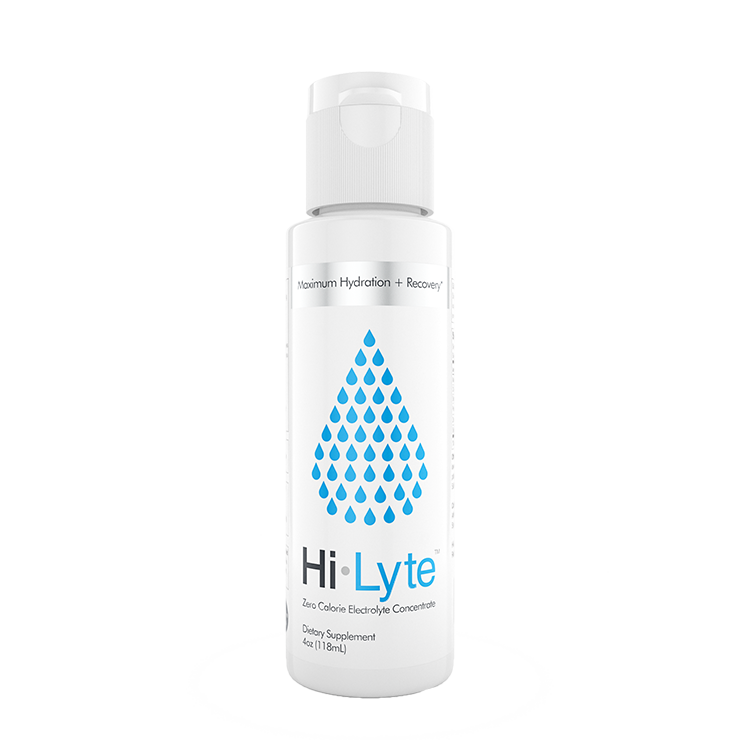 What is Hi-Lyte? Hi-Lyte is a liquid electrolyte concentrate that can be added to water, juice or any other beverage. It replaces electrolytes lost due to sweat, exercise or even alcohol consumption. Perfect to add to water bottles, camelbaks or hydration packs, as it will not leave a residue or contribute to the growth of mold or bacteria.
What are Hi-Lytes benefits? Hi-Lyte's proprietary formulation includes the perfect mix of electrolytes for rapid rehydration and alkalinity*. Support mechanisms include: Reduces heat stress, cramping, nausea and fatigue. Improves energy, muscle recovery, muscle gain and endurance. Antioxidants support healthy immune system function*.
Why is Hi-Lyte better? Hi-Lyte is the highest Potassium, Zinc and Magnesium Electrolyte Concentrate available and perfectly balanced for hydration, recovery and alkalinity. It is made of all-natural Sea Minerals including Sea Salt from the Great Salt Lakes in Utah. No Calories. No Sugar. No artifical colors or flavors. Vegetarian. Vegan. Non-GMO. Gluten Free. Keto Diet Approved. Made in the USA in an NSF Certified Manufactring Facility.
Who is Hi-Lyte for? Hi-Lyte is a health product and made for people who prefer clean food with no additives. Hi-Lyte has no flavors or additives and has a slightly salty and tart taste. It was designed for the demanding needs of endurance athletes such as Cyclists, Runners, Swimmers and Triathletes. Hi-Lyte has also become a favorite of Cross-fitters, Yogi's and Collegiate and Professional athletes of all sports. Hi-Lyte is the best selling rehydration product for hangover recovery.
100% MONEY BACK GUARANTEE: We are so confident that Hi-Lyte will meet your highest expectations that we are offeiring H-Lyte at zero risk to you. If Hi-Lyte doesn't help you rehydrate and recover faster, just send us an e-mail within 30 days for a full refund, including shipping costs. No products to return. No forms to fill out. Your 100% satisfaction is our guarantee!